When we say Today's Cargo is your one-stop, full-service jeweler, we mean it. Most jewelry stores today don't offer our large and varied range of services. We're here for all your jewelry needs!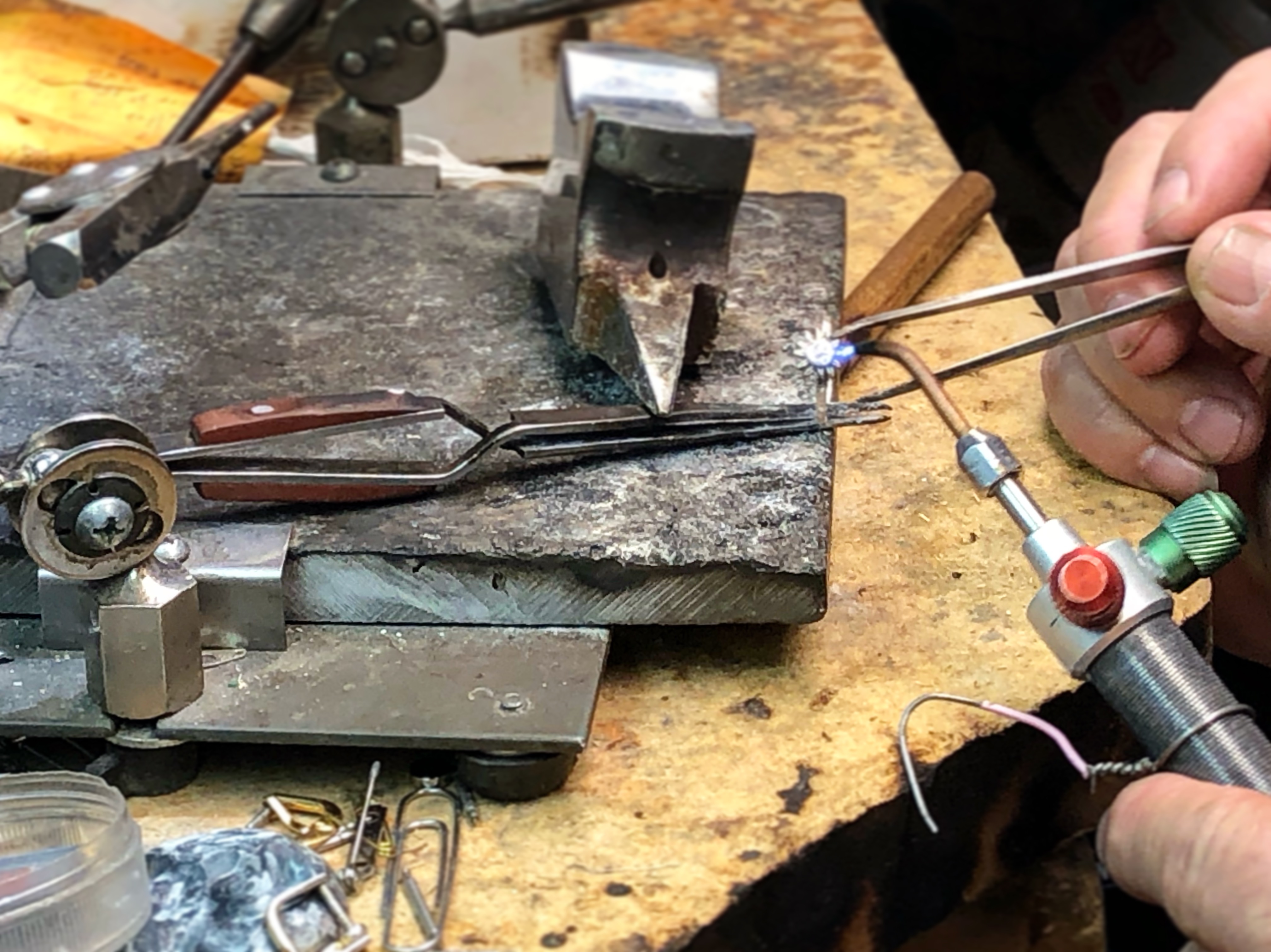 CAD/CAM Custom Jewelry Design
Our state of the art custom jewelry design studio can make your dreams become a reality using highly advanced computer software. Feel free to email or bring any design ideas or pictures you may have. Here are the steps:
First we work together to make you dream into a real design. It can start with a simple sketch, or a photo of what you have in mind.
We then create a computer rendering for your feedback and approval.
A wax model is then created, and if you choose, may be viewed for your final approval.
We then proceed to casting.
Finally, any gemstones are set and the piece is polished so it's sparkly and ready to wear.
You can expect to have the finished piece of jewelry within 2 to 3 weeks after final approval.

Request your appointment today.
Custom Redesign and Remounts
The staff offers creative solutions for both custom jewelry redesign and remounts. Meet with one of our creative staff members and/or the goldsmith and share your ideas for an exciting new piece.
Jewelry Repair
Our expert jewelry repair covers an extensive variety of services. We do all types of repair work including ring sizing, prong re-retipping, chain soldering, clasp and stone replacement, rhodium and gold plating, earring conversion (from pierced to clip and vice versa) and much more. We work in all metals, including but not limited to base metal, sterling silver, goldfilled, 10K, 14K or 18K gold, and platinum. We also offer top-notch fashion/costume jewelry repair. Estimates can be given on all work before starting. Repairs are usually a two to three week turnaround - matching stones and special orders can take a little longer!
Watch Repair
Expert watch repair on old and new timepieces includes battery, band and pin replacement and cleaning. These basic watch repair services usually can be done weekdays while you wait or go grab a cup of coffee. More involved watch repairs such as a cleaning and overhaul and crystal replacement requires service by our off-site watch repairman. It's usually a two to three week turnaround for these repairs. Estimates can be given on all work before starting. PLEASE NOTE: WE ARE CURRENTLY SEEKING A NEW WATCH REPAIRMAN FOR SERVICES ON THE INNER MOVEMENT, CROWN, AND STEM. IF YOU REQUIRE SUCH SERVICES, WE CAN PROVDE A LOCAL REFERRAL. WE APOLOGIZE FOR THE INCONVENIENCE.
Pearl & Bead Restringing or Redesign
We have professional bead stringers/designers on staff. We can provide extra beads and all types of clasps (including magnetic) and findings. It's usually a two week turnaround for repairs and designs. Estimates can be given on all work before starting.
Jewelry Appraisal Services
Jewelry appraisals and gem identifications
are performed by a GIA Graduate Gemologist and are conducted in-house. Appraisal and appraisal consultation appointments are accepted during weekdays only. Depending on the complexity, each item requires at least a half hour to physically evaluate. If our schedule permits, you may wait during the appoinment to take your item(s) home with you. You may also drop off item(s) to be appraised and pick them up once the physical evaluation is done. The appraisal report will be emailed/snailmailed two to three weeks after the evaluation. Pricing is dependant on the scope of work and quantity of items. Please contact us for more information on our appraisal services.
Request your appointment today.
Ear-Piercing
Ear-piercing appointments are accepted weekdays between 11:30am and 5:00pm. Our ear piercing techician uses the Inverness system (and ice for numbing!) and pierces with 14K gold earrings. We offer a wide selection of 14K piercing earrings starting at $50/pair. We also charge a $15 piercing fee per set, which includes piercing solution and aftercare instructions. We accept children (ages 7-17 with a parent or guardian) and adults. Earlobes only! Masks are optional and signed Covid waiver is required. PLEASE INCLUDE YOUR NAME, YOUR CHILD'S NAME AND YOUR DAYTIME TELEPHONE NUMBER. We are a small shop and cannot accommodate large parties for ear piercing. Please limit your party to 3 people.

Request your appointment today.
Jewelry Engraving
Engraving is done by a master hand-engraver or by a laser-engraving machine. Currently we offer engraving service for many of our items. Please inquire for more information.
Complimentary Jewelry Cleaning
We have special liquids, ionic and sonic cleaning machines and a steam cleaner available for complimentary jewelry cleaning. A reasonable fee may apply for large amounts of jewelry. There is a charge if the goldsmith is requested to polish an item using the polishing machine. This is also a great time for our expert eyes to check for any potential issues. See how your favorite pieces will sparkle after a professional cleaning!
Jewelry Concierge
Can't find something in our store? Trying to replace that favorite piece of jewelry? We can find it for you!. Bring in or email us a photo if possible, and we'll start our search. Consider us your personal shopper and we'll see it as our mission.
Gold Buying
Yes, we often buy gold for melt/scrap value. We do not buy finished jewelry with the intention to sell at our location. We use licensed estate dealers for curating our antique, vintage, and estate jewelry items. Estimates for scrap gold purchases are given during the week and most Saturdays.
Courier Services
Running short of time? We can select a gift to fit the occasion, gift-wrap it, and have it delivered swiftly via a bonded local courier, all at very reasonable rates. Please contact us for more information.
Complimentary Gift Wrapping
We take the hassle out of gift giving! Our wrapping paper and bows are perfect for every season and occasion. Sorry, limited to our merchandise only(!)